You might have heard of London-based fashion/technology company Studio XO for their mind-blowing creations for artists and pop stars. They've designed a "digital mermaid bra," whose crystals sparkled in time to Azealia Banks' real-time rapping, and crafted LED stage wear for the Black Eyed Peas. After discovering Studio XO's blushing Bubelle dress (which changed colors based on the wearer's mood), TechHaus, the technical division of Haus of Gaga, initiated a collaboration on a series of dresses for Lady Gaga's ARTPOP campaign: a 3D-printed bubble machine dress called Anemone, a Jeff Koons-inspired design called the Parametric Sculpture Dress, a piece with animated black mirrors named Cipher, and Volantis, a dress that literally takes flight. When Studio XO wave their magic wand, they turn fantastical ideas into reality, and The Creators Project captured some of this magic in our new documentary on the future-fashion group, above.
But while the company, founded by Nancy Tilbury and Benjamin Males, has certainly gained a reputation for making these bespoke couture pieces for the famous and photographed, they're now interested in bringing bits of tech couture to the masses, revolutionizing the way fashion is shown and worn in our everyday environments.
Azealia Banks' "digital mermaid bra" by Studio XO for the artists Fantasea Tour 2012. Photo courtesy of Studio XO.
Tilbury explains the digital revolution hasn't quite yet happened in fashion. "The only real space where fashion has become digitized is by bringing in e-commerce," she told The Creators Project.
Studio XO is unique because they've built a collective that brings together fashion designers, engineers, material experts, and product designers in a unified way, relying on the ideas, perspectives, and expertise of each sector to fuel and balance out the other.
"These new CAD tools that are moving through architecture and moving into body-based product are enabling us as designers to be able to blueprint new types of products. Things that have only been a figment of our imagination, we can now see in CAD, 3D print, render, [we can] manipulate technologies in this kind of flexible, hybrid way," said Tilbury.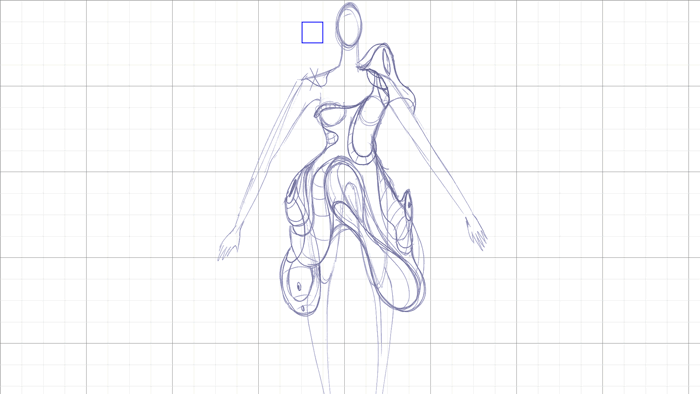 Early sketch of Anenome. GIF by FASHGIF.
Early sketch of Anenome. GIF by FASHGIF.
Today, Studio XO has taken the first step in bringing their designs to the masses by launching the website for XOB, their innovative new fashion and technology brand inspired by the digital generation. From the studio: XOB is the studio's bespoke digital collection which they have been creating and designing now over the past few years. It's a very exciting concept for Studio XO. Studio XO continues to trail blaze with their couture technologies, with an emphasis on the body in the 21st Century.
They believe the launch of this line will help move fashion towards a new revolution: "Companies like Studio XO creating blueprints and expectations for future ways of living will have an effect of driving a new generation of innovators. We're very interested in illustrating a way of making these kind of things happen," said Males.
Find out more about the evolution of Studio XO's designs for performers and the future of digital skins in the documentary above, and stay tuned for more news on XOB in the coming weeks.
Early render of Anenome. Courtesy of Studio XO.
Early sketch of Anenome. GIF by FASHGIF.
Blueprints for Volantis, Lady Gaga's Flying Dress, GIF by FASHGIF.
Early Volantis sketch. Courtesy of Studio XO.
Bubelle, the blushing dress. Photo courtesy of Studio XO.
For more on fashion and wearable tech, watch Make It Wearable Episode 3: Human Expression.